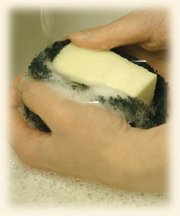 As a registered nurse, I hear many people complain of the discomfort of dry, flaky, itchy skin. For some, it's a result of a medical condition. For many, however, it's the harsh chemicals and detergents used to make commercial soap that create the problem.
I discovered that handcrafted soaps contain natural moisturizers that are ideal for soft, healthy skin. The low pH of goat's milk, when added to soap, makes a wonderful cleansing agent that is closer to your own skin's natural pH. This makes it gentler on your skin.
Our soaps are specially formulated to create a rich, creamy, thick lather that melts into your pores, instantly pampering your skin with the moisture it craves and the goodness it deserves.
Click here to read customer testimonials.
We make no medical claims. We only tell you how our customers benefit from our products.